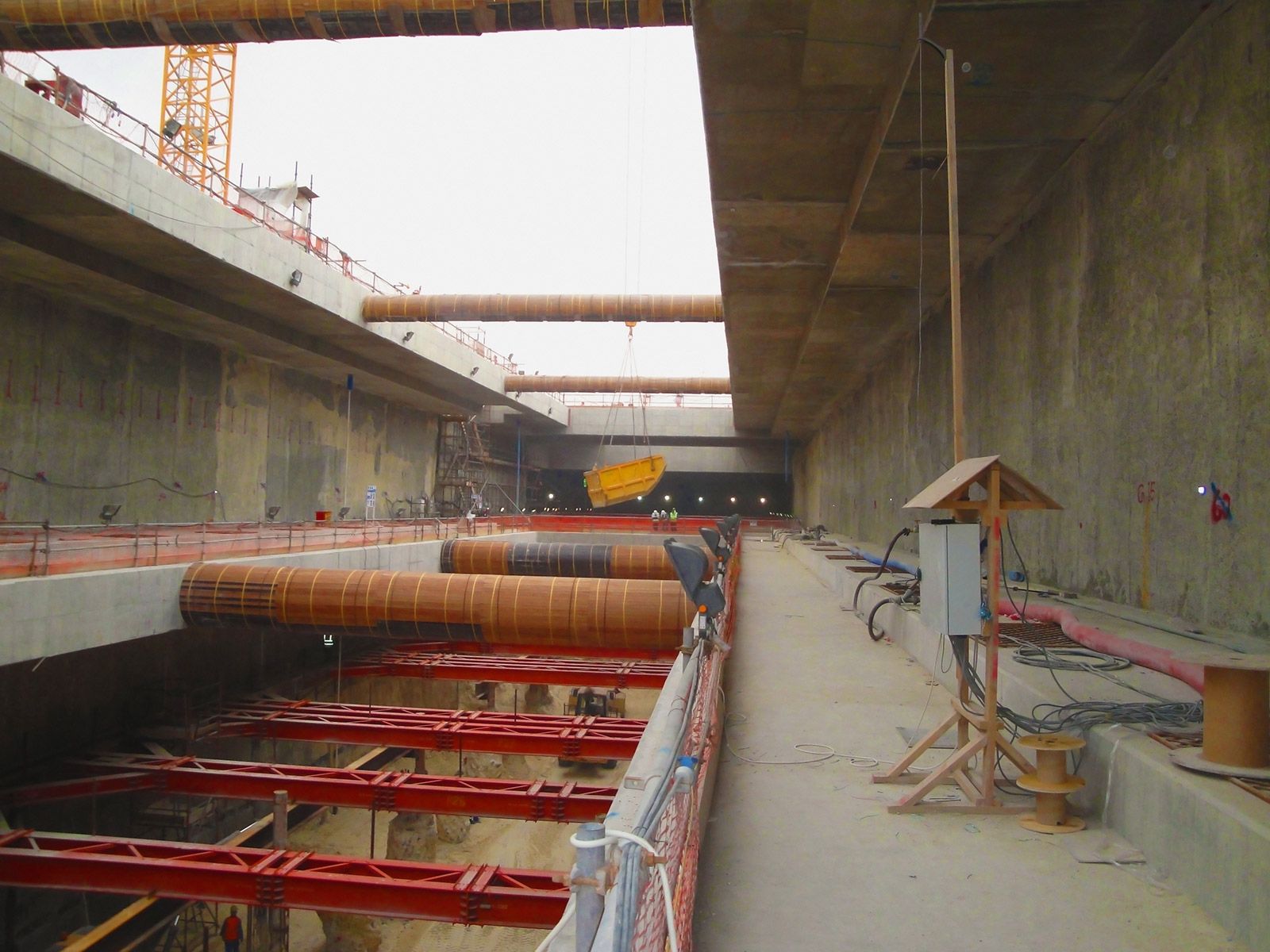 Precision. Accuracy. Patience
The Hamad International Station Box is a sub-surface structure composed of (approximately) a 305m long by 25m wide by 20m deep box with two abutting single level MEP zones approximately 10m deep. The Station Box is directly adjacent to the airport lagoons which are connected to the Arabian Gulf. The groundwater table has been encountered at about +0.5m QNHD, or about 2.5m below the current ground level. Excavation of the box was done using a top-down method.
Part of the requirements in the construction of the station box is monitoring the movement or behaviour of the structural elements such as the diaphragm wall, concrete beams, plunged columns and temporary steel props; and the movement of the ground and nearby structures surrounding the box.
Automated in-place bi-axial inclinometers were used to monitor wall deflection, both the x and y directions. These instruments record sub-millimeter movement of the diaphragm wall on an hourly interval, and the data were instantaneously processed and the results were accessible at almost real time. The In-place inclinometers were also supplemented by manual inclinometer which were surveyed 3x a week. Ground settlement were monitored using precise levelling, and wall movement of the nearby bridges were monitored using 1" (one-second) Total Station.
Vibrating wire strain gauges were used to monitor the load of the concrete beams, plunged columns and the temporary props. These instruments were hard-wired to dataloggers, which sends all the data remotely to a central monitoring PC. An audio-visual alarm was also connected to the datalogger, which tripped whenever the set limit is breached. The amber trigger limits were breached several times, but no red trigger limit was ever encountered.
During the excavation stage, the Monitoring Group consisting of Group Five's Project Manager and WJ's expert reporter convened daily to discuss the results of the monitoring.
Precision. Accuracy. Patience. Confidence!
MAIN CONTRACTOR: Group Five Construction
ENGINEER: Mott MacDonald
PROJECT MANAGER: MACE
CLIENT: NDIA Steering Committee,