The Middle East continues to be a hot spot for basement construction and dewatering, with new buildings being constructed in many of the key cities.
Basements are a way of maximising use of valuable land and are typically used for utility space for pumps, electrics, and car parking. As many of the cities in the Middle East are located close to the sea, the groundwater table is close to the surface and dewatering is required to facilitate the construction of these underground spaces. Dewatering is typically used as a temporary measure during construction to assist in providing a dry and stable excavation. Dewatering is usually switched off once the waterproofing is completed and there is sufficient weight in the building to counteract the uplift from the groundwater table.
In Dubai alone there are in excess of 150 skyscrapers, a building in excess of 150 meters, and over 30 both in Doha and Abu Dhabi. As this is increasing with every day so does the requirement for basement dewatering. Whether a single or seven storey basement, WJ Middle East can offer a reliable solution that brings confidence to a project. We have experience working in open cut basements with battered slopes, to basements shored using H-beam, contiguous, secant and sheet pile, as well as diaphragm walls.
At the design stage of a dewatering system, the site investigation report, plan and cross section drawings will be reviewed by our design team before a proposal is prepared. Some of the services which WJ Middle East offer include a complete range of basement dewatering solutions including deepwells, wellpoints and sump pumps. We also operate a fleet of drilling rigs which allows us to provide our clients with a one stop solution, from the design, installation to operation stage.
Whilst the majority of new basements in the region are constructed on virgin soil, we expect that an increasing number of basements will start to be constructed on brownfield sites, including modification and repair of existing basements. WJ draws from the considerable experience gained designing, installing and operating dewatering systems throughout the UK where it is common practice to undertake dewatering on historical basements, tunnels and shafts. On existing basements, WJ staff take the extra care and consideration required to produce a viable groundwater control solution. This includes consideration of access constraints, specialist plant and equipment required to work in confined spaces, mitigating against settlement and removal of fines during dewatering, drilling through the base of existing basements and waterproof membranes, controlling artesian groundwater, and ultimately meeting our client's needs.
Please contact WJ today with any of your basement dewatering requirements.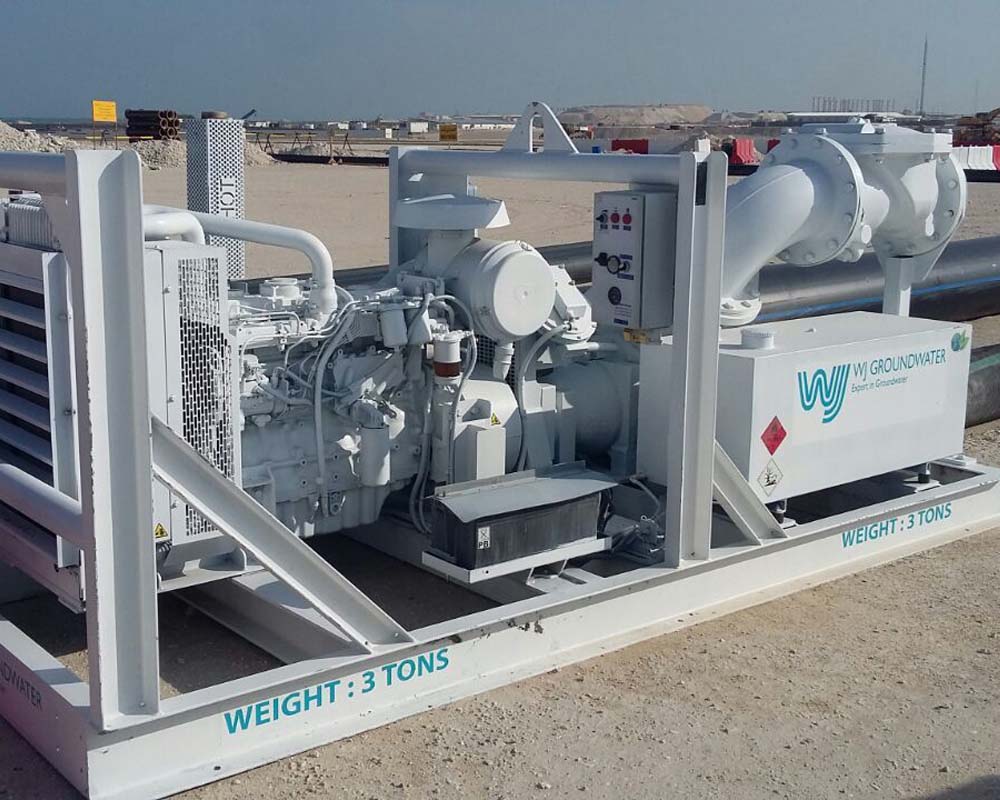 Pump rental for Basement Dewatering
Part of the WJ Group, WJ Middle East provides pump rental services for a wide range of basement dewatering applications throughout the Middle East and Overseas. WJ specialise in turnkey rental solutions with a complete design, installation, operation and maintenance service.
Call WJ Middle East on
+971 4 885 5254

WJ Middle East Projects
We deliver an outstanding service to clients of all size, from simple residential dewatering to large-scale national projects.
Basements