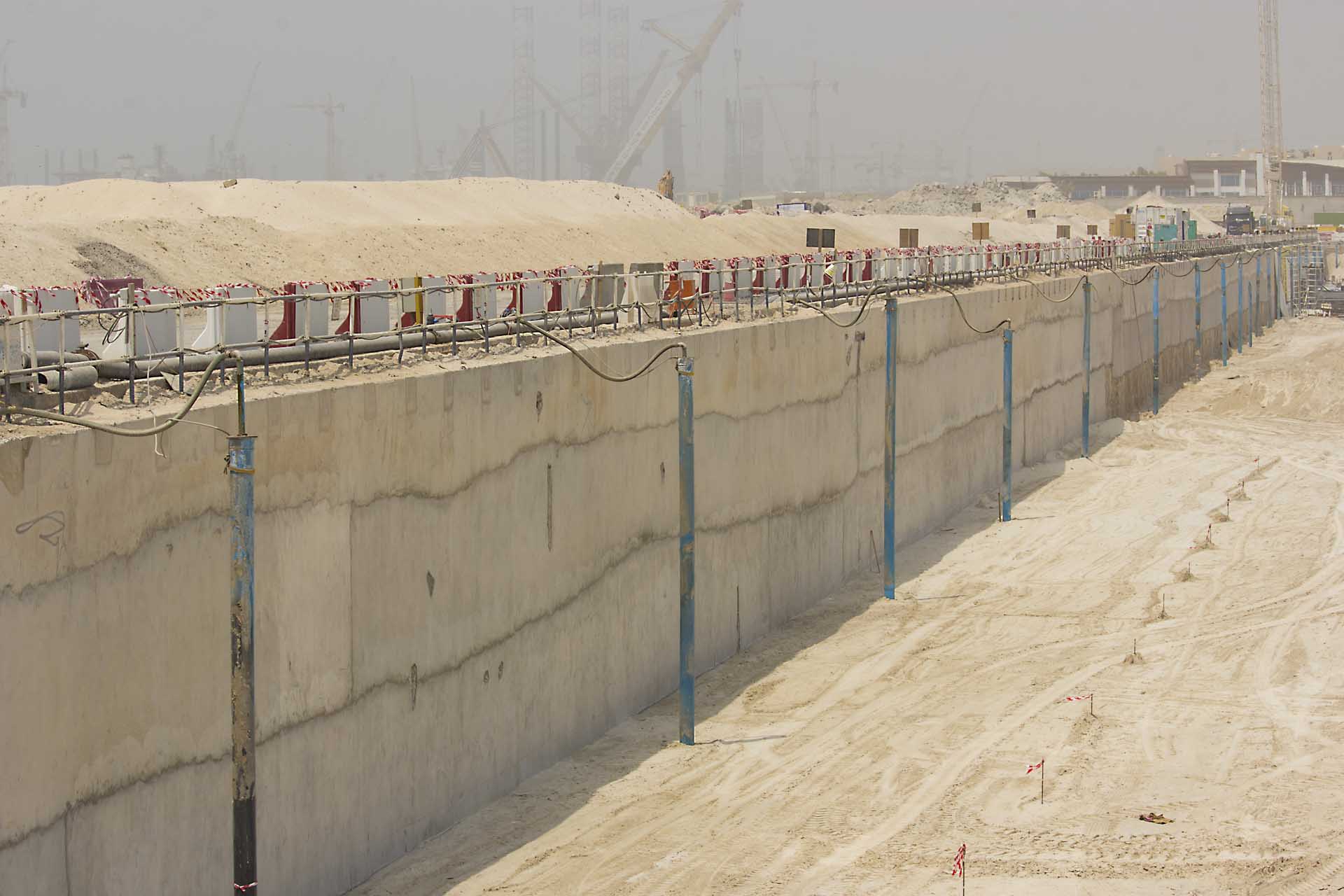 Located on the beach-front in Jumeirah, La Mer has a spectacular setting overlooking the Arabian Gulf.
At its core there will be a leisure and entertainment park and beach, bounded by an island either side, the North Island and South Island. The development will be a mixture of leisure, commercial and residential.
Beneath the central leisure and entertainment park and only 50m away from the sea is a large 8m deep car park, 680m by 65m in plan. To support the construction of the carpark basement, the piling contractor Swissboring installed a perimeter diaphragm wall toed into the Calcarenite rock below. WJ Groundwater installed an internal perimeter deepwell dewatering system to control groundwater levels within the excavation. To validated the dewateirng design and predict discharge flows WJ initially undertook two pumping tests and a series of computer modelling. Electronic MAG flow meters were used to monitor discharge flows from the dewatering works which during operation were exactly what had been predicted at design stage. This goes to show that good site investigation information and design work can offer the client a high level of confidence in the dewatering works.
WJ Groundwater installed a very robust dewatering system consisting of a fully HDPE headermain pipework and discharge lines. The Main Contractor was particularly impressed by how well the dewatering system worked and how the HDPE discharge lines protected their works from leaks common with less robust layflat hose systems. WJ also used metal cable ducts to keep cables protected from damage and to increase overall safety on site.
LOCATION: Dubai, United Arab Emirates
CLIENT: Meraas Holding
CONSULTANT: Hyder 
MAIN CONTRACTOR: Al Fattain Carillion